Information on the admissions process and frequently asked questions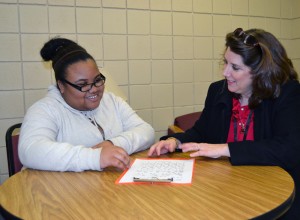 Admission to MSB begins at the local school level. All students must be referred for placement through their local school's IEP team where a determination is made that their needs can best be met through the programming offered at MSB. Reasons for referral may include a need for vision-related services beyond a level the county can reasonably provide. Additional services include consistency in programming across the day and evening and instruction in the Expanded Core Curriculum skills that school systems cannot address in a typical school day but that are critical to a child's educational and lifelong success.
Students may be referred to MSB by the local education agency (LEA) if there is an impairment in vision that, even with correction, adversely affects their educational performance. This includes both partial sight and blindness.* This determination is made by the LEA thorough and rigorous assessment and IEP team decision. *IDEA 34 CFR §300.8(c)(13)
Prior to placement, all prospective students and their families are required to participate with their families in a Preadmission screening at MSB.  This is an informal one day process that includes observation of student needs and functioning and parent interview with potential instructional, residential and related services staff.  Information obtained from the preadmission process is used to establish if MSB is an appropriate placement.
Final decisions about placement are made by MSB's Admissions Team, which consists of the school's three Directors of student programs and services. Once all necessary school and health documents are received, students who are accepted and their parents are then asked to participate in an enrollment meeting to finalize the admissions process. Placement is reviewed every year through the IEP process.
Parents do not pay tuition for students who are residents of the state of Maryland.
MSB strives to prepare students to return to their local school systems, when appropriate.
For more information about Admissions, contact:
Ruth Ann Hynson, Director of Statewide Outreach Services
410.319.5726 | ruthh@mdschblind.org