Our on-campus and off-campus Outreach services provide instruction in all areas of the Expanded Core Curriculum. These services are provided during the school day, evenings, weekends, and summer.
In addition to student-specific services, we also provide on-site and regional consultation, assessment, and training for parents and educational professionals to support student success. Most services are provided free of charge.
Outreach Student Activities
Short Course Programs
Due to their unique needs, students with blind and low vision often require deliberate instruction in skill areas beyond the core curriculum that are crucial for success in life. These skill areas are part of the Expanded Core Curriculum (ECC) and include compensatory or functional academic skills, including communication modes; Orientation and Mobility; social interaction skills; independent living skills; recreation and leisure skills; career education; use of assistive technology; sensory efficiency; and self-determination.
Because it is difficult to address these needs in a typical academic school day, MSB offers short course programs to students (1st-12th grade) monthly on weekends throughout the school year and during the summer to promote skill development in the nine areas of the ECC. During the school year, short courses vary in length from 1 -3 days. During the summer, we provide 1-4 week intensive programs in specific academic and ECC skill areas. Our short courses are taught by highly trained and highly qualified MSB staff and staff from county vision programs around the state and other organizations that provide services to the visually impaired population. Some of these programs may include a small charge. Short courses can be provided on the MSB campus or regionally.
Examples of short courses we have conducted in the past include:
Take Me Out to the Ballgame – includes a multi-sensory tour of Camden Yards in Baltimore and instruction in beep ball
Building Everyone's Safety Techniques (BEST) – instruction in improving self-awareness, coping with stranger danger and bullying, and basic self-defense
Holiday Cooking/Crafts Make 'n Take – multi-sensory fun with holiday cookie decorating and arts and crafts for the students to explore and take home (offered in November-December only)
Adapted Sports and Fitness – instruction in adapted sports specifically designed for the visually impaired population as well as strategies to adapt regular sports activities and backyard games
"Looking Good" – instruction in hygiene and daily living skills using adaptations for low-vision and blindness (provided separately to girls and boys)
Spring Fling – hands-on instruction in popular dances to prepare students for school dances and proms
"Top Cook" – instruction in planning and preparing main course dishes with adapted cooking tools and strategies
"Dessert Boss" – instruction in planning and preparing tasty desserts with adapted baking tools and strategies
Family Adventure Weekend – fun outdoor multi-sensory activities for families and students to engage in together at one of the many local area parks
Braille Carnival – designed to raise awareness about Braille by having Braille readers and print readers who are curious about braille. Participants will enjoy a variety of carnival-themed activities to practice braille skills.
Social Networking – instruction in safely accessing popular networking sites for visually impaired students
Contact Amanda Aaron for more information about Short Courses or Workshops: amandaa@mdschblind.org
Student Summer Programs
T.R.E.C.C.K. for Success Program
Summer courses focus on five ECC areas: technology skills, compensatory skills (braille and print literacy), independent living skills, recreation/leisure skills, and career education.
July 17th-21th, 2023,  (Ages 6-15)  T.R.E.C.C.K.: The 2023 TrECCk participants are stranded on a deserted island! Have you heard of the Expanded Core Curriculum (ECC)? These are the concepts and skills that often require specialized instruction with students who are blind or low vision. Surely the ECC can teach us something about surviving life on the island. Maybe through the ECC we will even get some clues for how to escape…
M.I.S.L.E. SUMMER INSTITUTE
Mastering Independence Skills Through Living Experiences (MISLE) is a work-based, residential (M-F) program for students with visual impairments ages 16-21 years of age, explicitly designed to provide intensive instruction in the areas of the organization work experience, social skills, mobility and more. This program runs for four weeks each summer.
MSB Camp Abilities
Our mission at MSB Camp Abilities is to provide students from across the state (and neighboring states) with an authentic and educational opportunity to participate in various sports, health-enhancing activities, and social opportunities that they can continue after their week of camp. We vigorously promote independence and self-advocacy throughout the week and encourage them to socialize and develop a strong relationships with peers that will last a lifetime.
July 10th – 14th,  2023 (Ages 9-17)  CAMP ABILITIES: An Overnight Sports Camp at MSB with fun experiences including Goalball, Judo, Beep Baseball, Track and Field, and much more! $200 (scholarships available)
MSB Camp Abilities at Lions Camp Merrick
A five-day overnight outdoor education camp held annually in July for youth ages 9-17 who are blind or low vision held at Lions Camp Merrick on the beautiful Potomac River in Nanjemoy, MD.
July 23rd – 27th,  2023, (Ages 9-17) CAMP MERRICK: An Overnight "real camping" adventure in Southern Maryland hosted by the Lions Club with MSB Staff Support! $TBD  (scholarships available)
For more information on summer programs in general, contact Diane Colburn, Director of Statewide & Outreach Services at dcolburn@mdschblind.org
Social Work Support Services
Individual student and family social work consulting can be provided by a licensed clinical social worker to address social-emotional issues related to the impact of vision loss on educational performance and daily life, as well as other family or environmental stressors. Services can be provided at MSB, school, or in-home with the family.
Low Vision Services
The clinical low vision focuses on identifying strategies and devices to maximize the student's ability to use their vision to complete daily activities. The evaluation includes assessment of color vision, contrast sensitivity, near and far distance visual acuities, refraction, evaluation of visual field and lighting, visual perceptual screening, and introduction to strategies and optical and non-optical devices. The student, parents, and teacher actively participate in the clinical evaluation.
(Program Temporarily Suspended) Regional Optometric Evaluations
Regional optometric evaluations are available upon request for up to four students at a time. The optometric evaluations include cycloplegic dilation and include evaluation of visual abilities and the health of the eye, including the appearance of the eyes, anterior chamber, lens, eye pressures, and refraction to determine the need for glasses and examination of the back of the eye to assess the integrity of the retina. If concerns are noted, the student is referred to their private physician for a more extensive examination. Regional optometric evaluations are provided on a Friday at a location decided upon by the county and include the low-vision optometrist and low-vision specialist.
Functional Vision Assessments & Consultations
We offer functional vision assessments and consultations in the student's home school or natural environment to address their ability to access age and grade-level educational and leisure materials near and far distances. Areas assessed include but are not limited to color vision, near and distance visual acuities, functional visual perceptual skills, response to magnification and assessment of personal characteristics and environmental factors that may impact practical use of vision. If visual perceptual concerns are suggested during the functional vision assessment, assessment of visual perceptual skills using the Motor Free Visual Perception Test, Third Edition, is available with results generated through consultation from MSB occupational therapists.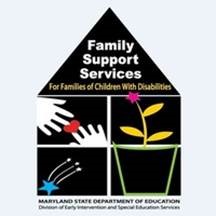 Family support is an important part of early intervention and education for children with blind or low vision and other disabilities. Family Support Services is one way The Maryland School for the Blind offers support to families statewide.
We provide families and professionals with information about the many services available to children with visual impairment and with other disabilities.
The Family Support Services helps families across Maryland by:
linking families that have had similar experiences
offering opportunities to attend specialized workshops and seminars
providing information and resources on helping your child with visual impairments
providing information on family rights under IDEA, and the IFSP/IEP process
establishing family-to-family support networks to help meet needs in local communities
Partners for Success (PFS) – Parent Coordinators provide support and training to families of children receiving services through an IEP. Families of children with disabilities can access support throughout their child's academic career and as they transition into adult life.
For more information about the Family Support Services and other support programs for children with blind and low vision and their families, email Cynthia Rodriguez at cynthiar@mdschblind.org.
Student-Specific Consultations
In conjunction with local school staff and parents, MSB Outreach staff can provide on-site observation and collaboration regarding issues that are impacting student performance and progress within their local school programs. Our consultative services are designed to provide information and suggestions for strategies, accommodations, and interventions that can promote student success within their local school programs. Consultation can be provided in all areas listed under Diagnostic Assessment.
Diagnostic Assessments
MSB provides diagnostic assessments on a fee for service (see below) basis in several areas to provide a better understanding of a student's functioning, specifically as it is impacted by vision or the inter-relationship of vision with additional disabilities. Assessments are customized to the individual student needs and provide valuable information to design and implement an effective educational program. They are offered in the following areas:
Low Vision – functional use of vision and clinical assessment < link to Low Vision Services here >
Education – academic performance, compensatory skills and Learning Media Assessment
Psychology – cognitive functioning, behavioral/adaptive functioning
Social-Emotional
Assistive Technology
Orientation and Mobility
Activities of Daily Living
Assessments in the areas of fine motor, gross motor and speech/language can be provided on a case by case basis.
Direct Instruction
MSB offers a contractual Teacher of the Visually Impaired and Orientation and Mobility services to local school systems on an as needed basis. Services are provided by highly qualified Teachers of the Visually Impaired and Orientation and Mobility Specialists. MSB recruits and provides oversight and accountability for contractual staff.
The cost for these services can be obtained by contacting the individuals listed below.  Contractual staff will provide student evaluations and consultations as well attend IEP meetings and department meetings as work schedules allow. Charges are billed on a monthly basis.