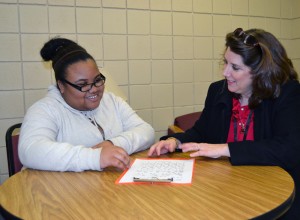 Students may be referred to MSB by the local education agency (LEA) if there is an impairment in vision that, even with correction, adversely affects their educational performance. This includes both partial sight and blindness.* This determination is made by the LEA thorough and rigorous assessment and IEP team decision. *IDEA 34 CFR §300.8(c)(13)
Prior to placement, all prospective students and their families are required to participate with their families in a Preadmission screening at MSB.  This is an informal one day process that includes observation of student needs and functioning and parent interview with potential instructional, residential and related services staff.  Information obtained from the preadmission process is used to establish if MSB is an appropriate placement.
Final decisions about placement are made by MSB's Admissions Team, which consists of the school's three Directors of student programs and services. Once all necessary school and health documents are received, students who are accepted and their parents are then asked to participate in an enrollment meeting to finalize the admissions process. Placement is reviewed every year through the IEP process.
Parents do not pay tuition for students who are residents of the state of Maryland.
MSB strives to prepare students to return to their local school systems, when appropriate.
Admissions FAQ
There is no tuition and no cost to the family of MSB students.
Although all referrals come to us through the local school system, families may initiate this process by contacting their child's school. All students must go through an admissions process at MSB which involves evaluation and a review by the Admissions Team.
Yes. Many of our students are working on the requirements to obtain a high school diploma, including passing the required state assessments, as part of our General Academic Program. MSB does serve students with additional disabilities in three other programs at the school that focus on life skills. These programs are the Functional Academic, Blind with Multiple Disabilities and Blind with Autism. MSB also has an Early Learning Inclusion Program that serves students from Pre-K to Kindergarten who are learning alongside typical peers.
No. Fifty percent of MSB students are day students and return home every evening. The other half of the student body are residential students and go home every weekend. The residential program is only open when school is in session, 185 days per year. Students reside in their homes on weekends, during major holidays and school closings.
Absolutely! In fact, this is encouraged so that parents can see what their children are capable of doing and learn strategies to help their child continue using these skills at home.
Of course! We welcome you to visit our campus and see the programs we have to offer. Participating in a tour is actually encouraged for all prospective students and their families.