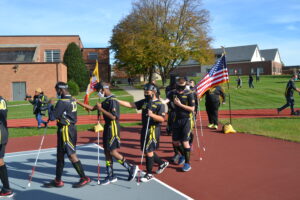 Athletics
MSB hosts competitions throughout the school year on our campus and at our competitors' schools. We travel from Massachusetts to Florida to compete against other schools for the blind in the Eastern Athletic Association of the Blind (EAAB).
Music Education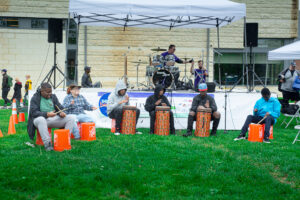 The music education program at MSB offers students a variety of music education and extra-curricular opportunities, both vocal and instrumental, in which to participate.
Students can audition to participate in the Junior Choir, Intermediate Choir, Concert Choir, Bell Choir, Percussion Ensemble and the Blue Duffs Jazz Ensemble.
Music Therapy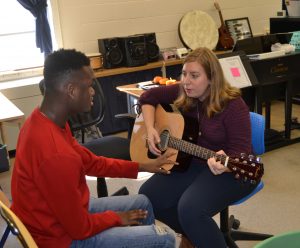 At MSB, music therapy is used as a tool to address the goal areas of communication, social skills, motor skills, behavior, emotional awareness, activities of daily living, cognitive skills, academic skills, and leisure skills.
It is also provided as educational enrichment to groups of students. Group sessions are structured to provide predictability for the students in order to make progress on goal areas.
Therapeutic Recreation
MSB's Therapeutic Recreation Department organizes age-appropriate leisure plans, and recreational and social experiences both on campus and in the community. Therapeutic Recreation services are available to both day and residential students and might include one-on-one activities, small and large groups, organized clubs, community outings, and special events.
Activities provided by the Therapeutic Recreation Team include: arts and craft's, drama, sports, field trips, play skills, performing arts, clubs and groups, and community events.
Residential Services
Our Residential Services program serves students ages 6-21 who live a long distance from campus or require programming beyond the school day, meet MSB's admission criteria, and have needs identified by their Individualized Education Plan (IEP) Team. Students may participate in the program on a full time, part time, or an extended-day basis depending upon their educational need.
Our program follows the Expanded Core Curriculum (ECC) with particular emphasis on activities of daily living and social skills.
The program provides opportunities for students to learn and practice skills by individualizing teaching approaches, offering needed adaptations and developing systems and structures that foster independence.
Home Living Specialist
Our Home Living Specialist provides instruction and support in all areas that enhance independent living and educational development of individuals with a visual impairment.
Services may be delivered in a variety of settings to include in the home, cottage, school or community. Training strategies consider the impact of a person's visual status when developing accommodations to best equip the individual for success.
Instruction is available in: self-care skills, meal management and cooking, home management and housekeeping, financial management, and personal management skills.