Faith Guilbault – MSB Student
When Faith Guilbault arrived at the Maryland School for the Blind (MSB) as a new student in 2019, she was already well-known by staff and students. She received their attention through local media coverage of her aspiring modeling career. The staff and students were excited to welcome her to the MSB campus program and looked forward to getting to know her. After all, how many 16-year-olds can say they have modeled in Fashion Week in New York City or have their own YouTube Channel?
Born with Cerebral Palsy, Epilepsy, and Cortical Vision Impairment, she has relied on a wheelchair, assistive walkers, and leg braces to help with mobility, and experiences frequent seizures. Those challenges have not halted Faith in her determination to be as independent as possible.
"That is one of the reasons we were referred to MSB," according to her mother, Karen Guilbault. "MSB specializes in teaching independence skills. In addition to academics, Faith receives physical, occupational, and speech therapies, as well as orientation and mobility lessons. After seeing all the school has to offer, along with the focus on functional living skills, which is key for Faith, we knew it was the right choice. We have already seen such an improvement in her skills in the short amount of time she has attended MSB."
Faith works with the Runway of Dreams, a non-profit organization that works toward a future of inclusion, acceptance and opportunity in the fashion industry for people with disabilities. Many designers, including Tommy Hilfiger, Kohls, and Target have recognized the need to create mainstream adaptive apparel which allows people with disabilities to dress themselves independently.
Faith has been actively involved in the research behind the design of the adaptive clothing and in numerous medical research studies in collaboration with the University of Delaware, Dupont and Shriners' hospitals.
The documentary, slated for broadcast on PBS in 2021, features Faith at home with her family and friends, in school at MSB, and participating in her favorite activities, like therapeutic horseback riding, bicycling, and modeling, which all serve double duty by helping her to stay physically active and more independent.
Faith directed the film with assistance from Joyce Chopra, a volunteer mentor with BYKIDS, an organization that produces documentary films by kids with the goal of creating understanding through storytelling. Faith's World will be shared with kids and teachers and will include a School Guide and a "Take Action Guide" to engage kids in conversations and actions around disability education and inclusion.
"By making the film, I wanted to show people that even though I have multiple disabilities, I am living my life like everyone else. I don't want people to feel sorry for me, because I don't feel sorry for myself. What I want most is for people to see what we have in common, not different and to see what I am able to do, not what I am not able to do."

Faith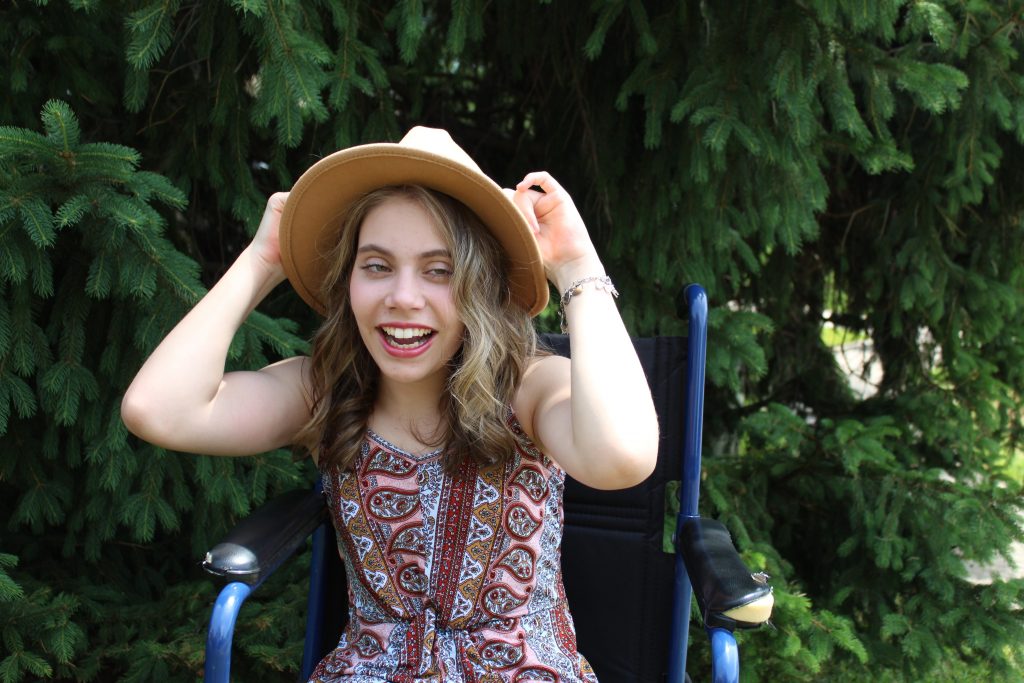 To learn more about Faith, subscribe to her YouTube Channel, Guilbault Girls