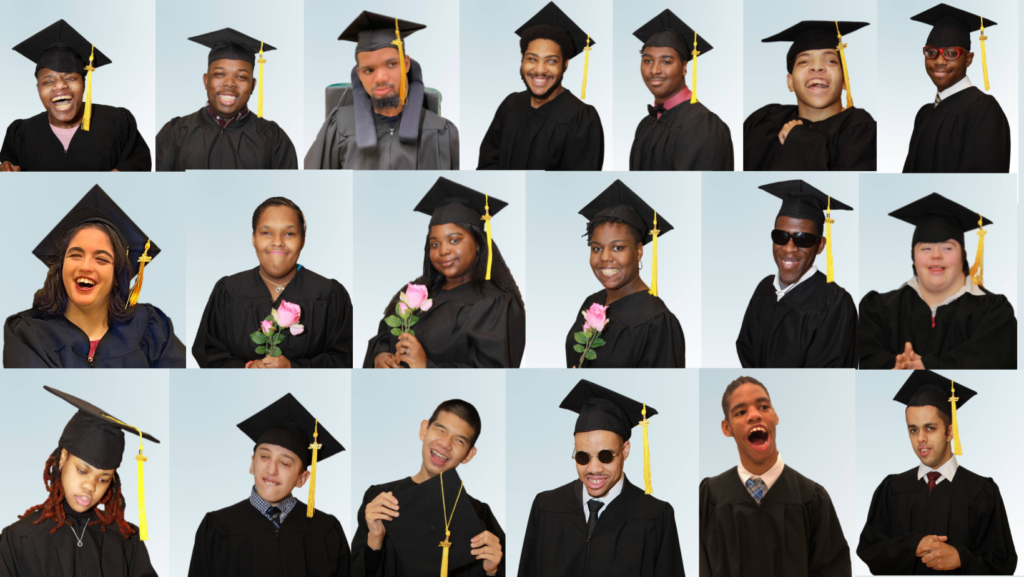 Graduates from left to right and top to bottom: Tamika English, Calvin Bradford, Desmond Dove, Krystian Williams, Michael Brooks, Jr., Donnell Byrd, Ryshawn Hyman-El, Lily Tanenholz, Clarice Hall, Lashai Richardson, Lyric Wharton, Aiah Lebbie, Geena Sharp, Alana Kendrick, Tyler Brodsky, David Jacobs II, Germaine March, Avantay Champion, Samuel Hejeebu
The Maryland School for the Blind (MSB) held its 169th commencement on June 6, 2022. The ceremony celebrated the accomplishments of 19 students from the Class of 2022, who are now proud MSB alumni.
The ceremony consisted of the conferring of diplomas, certificates, and awards, with remarks from Dr. Joshua Irzyk, MSB Director of Education, and commencement speaker, Mr. Paul Schroeder, Vice President Government and Community Affairs, American Printing House for the Blind.
Class President, LaShai Richardson addressed the class of 2022 with the message "Be courageous, be bold, and be your best because you can do whatever you set your mind to."
Special awards were presented to several students, who exhibited leadership qualities, academic excellence or noteworthy improvement throughout their years at MSB.  
Krystian Williams was awarded the B. Franklin Newcomer Award, which recognizes a student who demonstrates, through leadership and citizenship, a positive influence in both school and residential life.  
Lyric Wharton and David Jacobs II received the Staff Commendation Awards. 
"We are very proud of our students for setting high standards and achieving their goals. MSB has prepared them with the education and skills needed to be as independent as possible and we look forward to a promising future for each of our graduates," said Irzyk.