Staff Spotlight
MSB Teacher – Christine Holland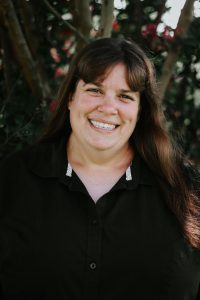 Congratulations to MSB teacher, Christie Holland, who has been named the Principals of Schools for the Blind (POSB) 2020 Outstanding Teacher of Students with Multiple Disabilities.
Annually POSB, which is part of the Council of Schools for the Blind (COSB), recognizes the contributions of remarkable individuals nationally who work with students who are blind or visually impaired. Professionals in the field are nominated by their peers and the winners are chosen by principals from across the country.
Holland, who has been on the staff at MSB since 2007, provides special education and vision services for children who have a variety of disabilities including visual impairments, autism, intellectual disabilities, physical disabilities and multiple disabilities from ages 5 – 21. She received her undergraduate degree in Elementary Special Education from Bethany College in West Virginia and her Masters certificate as a teacher for the visually impaired from Johns Hopkins University.
She was unanimously nominated for the award by members of the MSB education staff for her dedication to her students and their families and for exceeding the expectations of the job. Over the past 13 years, she has been a leader in the field and a mentor to her both her peers and new staff.
Holland has presented at professional conferences, including the Association for the Education and Rehabilitation of the Blind (AER), and at trainings for educators and students. She has also served as an assistant cheerleading coach at MSB.
Holland will received her award at a virtual ceremony hosted by the COSB Institute on October 6, 2020.
Featured Story
Braille Instructor – Heather Johnson
How do you teach braille remotely? Ms. Heather Johnson, MSB Braille Instructor, has been planning and creating braille reading and writing activities and mailing them home to her students since school closed on March 13th. She has been touching base via video and email to review her students work and to connect and answer questions from their families. She has recorded videos of herself giving directions, shared videos on how to load braille paper, care for a braille writer and how the braille dots correspond with the keys! She is thankful for her mailman who has picked up her mail and delivered it to the post office for delivery to her students.
Featured Story
Music Therapist – Danielle Long
Music is bringing people together more than ever during this uncertain time and even though she can't be with her students in person, Ms. Danni Long, MSB Music Therapist, has created her own YouTube Channel especially for them and their families. She has been adding music therapy session playlists, "music choice" activities, as well as curated playlists featuring music related to various goals or topics. Check out her great work and subscribe to her channel!