The Career Education program at The Maryland School for the Blind (MSB) believes that all students are entitled to the opportunities, experiences, accommodations and supports necessary to prepare them for meaningful work or other purposeful activities that are valued by society.
As early as age five, career education is implemented into student programs.  Throughout their time at MSB, students are given the opportunity to experience career awareness, career exploration, career preparation and transition activities.
On campus student work experiences include:
Working at The "Rock-N-Roll" Café
Assisting in the Clothes Pole (a student-run resale store)
Packaging and delivering supplies to various programs throughout the school
Serving meals at the staff Birthday luncheon and Board of Director luncheon
Working in the School Store
Delivering mail and packages throughout the school
Micro businesses (dog toys, dog biscuits, bath salts, customized pins)
Money Management
Technology
Off campus career experiences include:
Restaurant (food prep)
Print Shop
Cleaning
Humane Society
Daycare
Horticulture
Assisted-living centers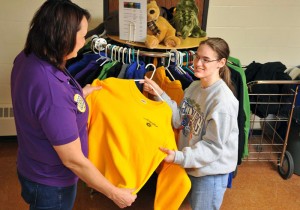 We are always looking for new ways to assist our students in the exploration of various types of jobs in the community.  If you own or work for a business that would be willing to give our students an internship opportunity or you would like to learn more about working with people with visual impairments or visit our work programs, please contact the Career Education department.
For more information about Career Education, contact:
Dareen Barrios, Assistant Principal  Functional Academics; Career Education
410.444.5000 ext. 1203 | dareenb@mdschblind.org