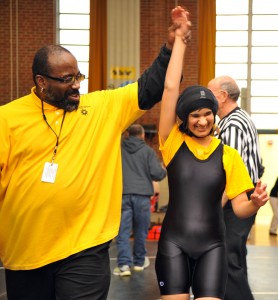 The Maryland School for the Blind (MSB) is a member of the Eastern Athletic Association for the Blind (EAAB).
MSB hosts competitions throughout the school year on our campus and at our competitors' schools. We travel from Massachusetts to Florida to compete against other schools for the blind in the Eastern Athletic Association of the Blind (EAAB).
Our sports are adapted for athletes with visual impairments. Individual accommodations are made so that those with additional disabilities may compete. MSB wants students to have a positive self-image, high self-esteem and possess leadership skills that will help them lead a healthy, active lifestyle. Community members are encouraged to attend our home meets and cheer on our athletes! Volunteer opportunities are also available.
Fall Sports (September – November)
---
5-a-side Blind Soccer
Coach: Tim Taylor
(TimothyT@mdschblind.org)
On September 12, 2017 The Maryland School for the Blind (MSB) held its first ever youth 5-a-side blind football (soccer) practice.  Our school hopes to play an intricate part in changing the fact that the United States does not have a youth or national blind football team competing at the international or Paralympic level.  Situated on our newly renovated sports complex, the soccer playing area is the first full size regulation blind soccer field in the country, complete with kickboards to keep the ball in play.
Through the vision of MSB's President, Dr. Michael J. Bina, and the teamwork of MSB's facilities department, blind soccer has become a reality on campus.  Student athletes ranging from 12-18 years of age took part in an inaugural 6 week program in the fall to learn and focus on soccer skills such as; dribbling, ball control, penalty kicks, and offensive/defensive strategies.  The players use a specially designed soccer ball with "rattles: embedded inside, which provides auditory feedback that allows players to locate the ball.  Sighted goalies, coaches, and spotters are located at strategic locations around the field to assist and direct players during play.  Uniquely designed boards around the "pitch" (playing surface) creates an echo which allows each player to determine the location on the field.  Most of the rules are the same or very similar to the game of indoor soccer with a few exceptions.  5-a-side blind football uses a sight classification system to group athletes with similar levels of visual impairments together.  This ensures that athletes are competing against each other equally.
The goal of the program at MSB is to develop and promote independence, physical fitness, and social interactions through the vehicle of sport and competition.  With the collaborative efforts of USABA and Clemson University along with other learning institutions including MSB, it is our plan to field a youth team and to host the first ever youth blind football tournament in the U.S.  The Maryland School for the Blind, with the help of its partners, hopes to see the sport of 5-a-side football  take off and "SOAR" in our country!
---
Swimming
Coach: Pam Schirmer
(PamS@mdschblind.org)
MSB hosted the 2017 EAAB Swim Tournament at Goucher College on November 1, 2017.
The team results were as follows:
Boys Teams                                                                                     Girls Team
1st place – West Virginia                                                               1st place –  West Virginia
2nd place – New York                                                                     2nd place – Texas
3rd place – Overbrook                                                                    3rd Place –New York
4th place – Maryland                                                                      4th place- Overbrook
5Th place – Texas                                                                           5th place- Maryland
The Terri L. Werner Sportsmanship award was given to the Overbrook Men's team and the Texas women's team. Congratulations to all of the athletes and coaches!
---
Winter Sports (November – January)
Cheerleading
Coach: Ingeborg Love
(IngeborgL@mdschblind.org)
Wrestling
Coach: James Gardener
(JamesG@mdschblind.org)
Calendar:
December 19, 2017 – MSB Home Meet 1:00 PM @ Knefely Gym
January 17, 2018 – Away Meet @Overbrook School for the Blind
January 26-28 2018 – EAAB Tournament @ New York Institute for the Blind
---
Spring Sports
Goalball (January – March)
Calendar:
March 6, 2018 – MSB Home Meet, 1:00 PM @Knefely Gym
March 8, 2018 – Students vs Staff Game
March 16- 18, 2018 – EAAB Tournament @West Virginia
Coaches: Matt Mescall (MatthewM@mdschblind.org) and Laura Provost (LauraP@mdschblind.org)
---
Track and Field (March – May)
MSB hosted the EAAB Tournament on April 27 & 28, 2018.
Congratulations to the MSB Men's team who won 1st place and the Ladies team for winning the sportsmanship award!
Coaches: Tim Taylor (TimothyT@mdschblind.org) and Laura Provost (LauraP@mdschblind.org)
---
Watch our home athletic events online! Events can be viewed LIVE or at a later date.
For more information about Athletics contact:
Tim Kinsella, MSB Athletic Director
410-444-5000 ext. 1312
TimothyK@mdschblind.org