Staff STAR Awards
---
---
Staff Highlights
Braille Instructor – Heather Johnson
How do you teach braille remotely? Ms. Heather Johnson, MSB Braille Instructor, has been planning and creating braille reading and writing activities and mailing them home to her students since school closed on March 13th. She has been touching base via video and email to review her students work and to connect and answer questions from their families. She has recorded videos of herself giving directions, shared videos on how to load braille paper, care for a braille writer and how the braille dots correspond with the keys! She is thankful for her mailman who has picked up her mail and delivered it to the post office for delivery to her students. (shown in the photo below)
Music Therapist – Danielle Long
Music is bringing people together more than ever during this uncertain time and even though she can't be with her students in person, Ms. Danni Long, MSB Music Therapist, has created her own YouTube Channel especially for them and their families. She has been adding music therapy session playlists, "music choice" activities, as well as curated playlists featuring music related to various goals or topics. Check out her great work and subscribe to her channel!
https://www.youtube.com/channel/UCTf1SzzjPFvMjCYfbq-DgNQ
Remote Activities
We couldn't hold our annual beeping egg hunts this year, but one of our Functional Academic classes, led by Ms. Amanda Williams and Ms. Yolanda Jenkins, got in the holiday spirit by hosting a virtual egg coloring activity with students and staff. Happy Passover and Happy Easter! Photo shows screenshot of students and staff holding up their eggs
---
Despite the fact that the EAAB track and field season has been completely derailed by COVID19, MSB Coaches Jeannette Dirks and Hannah Fritz have been running the "MSB Virtual Track Team" on Google Classroom, in addition to teaching their own classes. Each week, they give the students fitness challenges that they can do at home and while encouraging proper precautions and social distancing. Nearly 20 MSB student athletes are participating from their homes. Photo above shows a screenshot of the virtual team!
---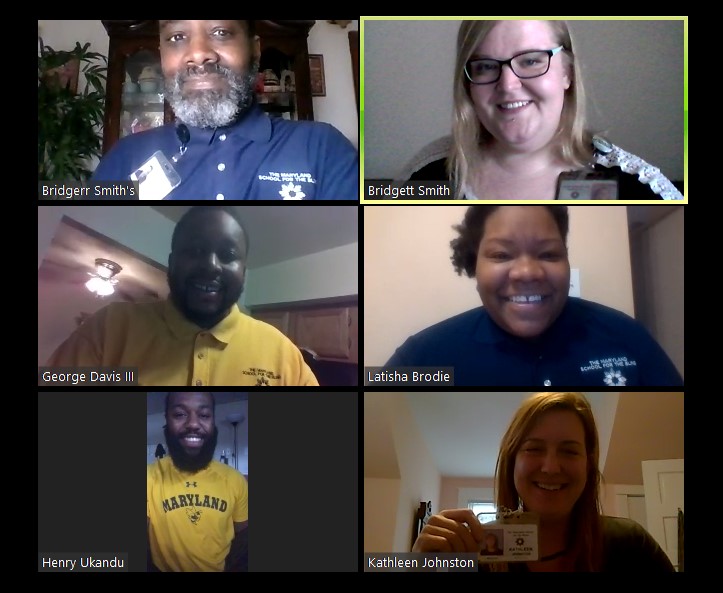 MSB Residential Staff are working hard to make sure that students' IEP and residential goals are being met at home. Some staff have also volunteered for other duties to assist students, families and other departments. Photos shows the team from the Thompson dorm showing their MSB spirit!
---
Let Us Grow Lettuce
The General Academic Program 3rd grade class continues to grow its lettuce despite the school shut-down. Teacher Ms. Meredith McArdle periodically checks on the plants to make sure they are doing well, so that when the kids return, they will see their amazing transformation from seed to plant. "I sure hope that the kids will see these plants sometime soon. They will be amazed to see their size!" Photos show lettuce in varying stages of growth.