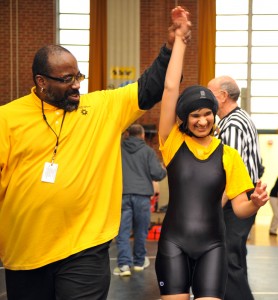 The Maryland School for the Blind (MSB) is a member of the Eastern Athletic Association for the Blind (EAAB).
MSB hosts competitions throughout the school year on our campus and at our competitors' schools. We travel from Massachusetts to Florida to compete against other schools for the blind in the EAAB.
Athletics Calendar
2016-17 ATHLETIC CALENDAR OF EVENTS
Our sports are adapted for athletes with visual impairments. Individual accommodations are made so that those with additional disabilities may compete. MSB wants students to have a positive self-image, high self-esteem and possess leadership skills that will help them lead a healthy, active lifestyle. Community members are encouraged to attend our home meets and cheer on our athletes! Volunteer opportunities are also available.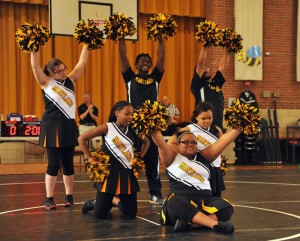 Athletic teams include:
Swimming
Cheerleading
Wrestling
Goalball
Track and Field
Watch our home athletic events online! Events can be viewed LIVE or at a later date.
CONGRATULATIONS to Breanna Pumphrey for winning
the EAAB Outstanding Cheerleader award!
For more information about Athletics contact:
Pam Schirmer, MSB Athletic Director
410-444-5000 ext. 1324
Pams@mdschblind.org