Current Trainings, Workshops, Short Courses and Events
Transition Tuesdays
Transition Tuesdays are free webinars presented by MSB and community partners focusing on the transition process and resources available to students with visual impairments.
These webinars are live streamed and also recorded for future viewing at http://www.ustream.tv/channel/maryland-school-for-the-blind
The next webinar will be held on March 21, from 11:30 AM – 12:30 PM.  Katelyn Traut, Service Coordination Manager for Kennedy Krieger Institute will present an overview of the transition process from Infants and Toddlers (Early Intervention Services) to an appropriate preschool program.  See Transition Tuesdays 3.21.17 for more information
Check back here for more upcoming workshops in 2016-17.
---
Professional Workshops
May 5, 2017 – Vision and the Brain: What Neuroimaging Can Tell us about CVI – This workshop, presented by Dr. Corinna Bauer, is sponsored by the Claire Loder McGough Memorial Fund and will be held at the Maritime Conference Center in Linthicum, MD.
See CLM May 5 2017 Flyer for more details
---
Parent Support Group Meetings
Parent Support Group meetings can be held on the MSB campus or regionally.  Contact Renee Kirby, Parent Coordinator, at 410- 444-5000 x1489 or reneek@mdschblind.org, if you are interested in organizing a group in your area.
---
Family Events
NOAH FAMILY WORKSHOP – Carnival Day: Your Ticket to Fun will be held on Saturday April 22, 2017 from 9:30 am – 2:30 pm.  Join MSB and the National Organization for Albinism and Hypopigmentation (NOAH) on the campus of MSB for a day of fun, information and community for individuals with Albinism and their families.
See NOAH flyer 2017 for more information
---
Student Activities
Short Courses
MSB offers short course programs to students (1st-12th grade) monthly on weekends throughout the school year and during the summer to promote skill development in the nine areas of the Expanded Core Curriculum.
2017 Short Courses
Saturday, April 1, 2017, Confidence Building, 11:00 am – 4:30 pm – We will travel to the Genesse Valley Outdoor Learning Center to participate in team building activities on their Challenge Courses.  See Short Course April 1st 2017 for details.
Sunday, June 4, 2017 – A Day In Annapolis –  Join us for a walking tour around our state capitol ending with a sensory garden tour and craft at the William Paca House.  This activity is for all ages.  See Short Course June 4 2017 for more details
---
The Maryland Regional Braille Challenge
The Maryland Regional Braille Challenge is held annually on the campus of MSB in January.   The Braille Challenge is a reading and writing competition for students in grades 1-12. Students are tested in five braille categories: reading comprehension, braille spelling, chart and graph reading, proofreading and braille speed and accuracy. Qualifiers advance to the national competition which is held annually at the Braille Institute in Los Angeles, CA in June.
The 2017 Maryland Regional Braille Challenge  was held on Saturday, January 28, 2017.
Congratulations to all of the participants and winners.
---
Summer Programs
MSB Camp Abilities is an overnight sports camp for youth ages 9-17 who are blind or visually impaired.  The camp is held on the campus of MSB every summer.  The 2017 camp will be held from July 10 – 14. Activities include Swimming, Beep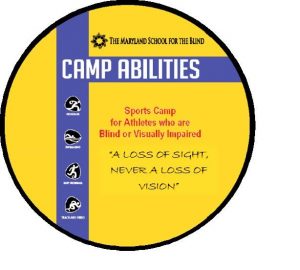 Baseball, Goalball, Beep Kickball, Soccer, Fitness Activities, Camp Fires, Field Trips and Social Time.  The cost of the camp is $150.00 and registration is due in May.
See the 2017 Camp Abilities Save the Date Flyer  and the 2017 Camp Abilities Registration packet for more information.
Follow us on Facebook @MSBCampAbilities
---
Elementary Summer Program – Creature Craze – July 5 – 7, 2017,  An overnight camp for Kindergarten to 5th grade students who are blind or visually impaired who want to learn about animals and building/programming Legos.  See 2017 SUMMER PROGRAM Elementary information packet for more details.
Middle/High School Program – Run of the Robots – July 17-21 & 24 -28, 2017,  An overnight camp for 6th -12th grade students who are blind or visually impaired who want to build Legos, create and test robots and run robotic challenges.  See 2017 SUMMER PROGRAM middle-high for more details.
Mastering Independence Skills Through Living Experiences (M.I.S.L.E.) Summer Institute – July 10 – August 4, 2017 The MISLE program, presented by MSB and DORS, is a work based residential (M-F) program for students with visual impairments ages 14-21. Students will be housed at Goucher College in Towson, MD.  See 2017 MISLE packet for more details.